Cross posted from the Cakewalk forum.
One year ago, we had the opportunity to breathe new life into Cakewalk. Today, as Cakewalk by BandLab, we reflect upon our journey this past year and some notable achievements: 
Delivering a free professional DAW for all – cost is no longer a barrier to advanced music production!  
Regular updates delivering significant stability and performance enhancements
3rd party integration, including élastique, ARA and VST support enhancements, and many new features, including:

Integrated industry standard élastique pro time/pitch stretching
AudioSnap enhancements
Advanced multi-track piano-roll MIDI editing and event filtering 
VST compatibility and plug-in management improvements and optimizations
Updated UI themes
Publish stems and mixes to BandLab cloud directly from Cakewalk
But by far the most rewarding part of the journey has been the support of a vibrant and growing community of new users and long time supporters, who have made a home in our new discussion forums. Whether you're a long time Cakewalk user or just getting started, we hope you've had a chance to dig in and make some great music with CbB. Your voices, support and enthusiasm have been instrumental to the success of Cakewalk by BandLab.
In celebration of our first anniversary milestone, we awarded one lucky member of our community a Focusrite Scarlett 18i20 audio interface. With 8 mic/line combo inputs, the 18i20 is a great choice for recording the whole band, or miking up a full drum set.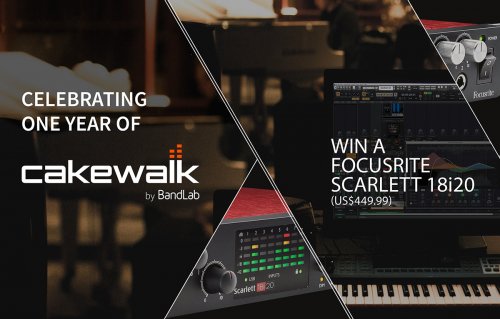 We are so pleased to announce Michael W. Davis, aka forum member Blogospherianman, as the winner of the Cakewalk by BandLab anniversary contest!
Michael, a Cakewalk user of 15 years and counting, is an accomplished and busy musician. He is music director and vocal arranger at the Grand Country Music Hall in Branson, MO, where he performs nearly about 450 shows annually. Their musical program, Branson Country USA, is televised and broadcasts nationally.
Michael began playing piano, his main instrument, at age 3. He also plays guitar, bass, drums and percussion. His diverse influences include his father, Oscar Peterson, Steely Dan, Chick Corea, Bela Fleck, BB King, jazz and rap. Being technically adventurous, Michael once wrote a GlovePie script for Wii-Mote and Bome MIDI Translator to conduct SONAR via MIDI time code!
We asked Michael to tell us about his workflow and favorite gear: "I love playing live as well as creating in the studio. They seem to balance each other out. I've been using SONAR for 15 years since version 2,4,5,7,8,8.53, X1, X3, Platinum and now Cakewalk by BandLab. Cakewalk is a complete extension of my creativity and an essential part of my workflow, connecting dreams to realities."
When it comes to plug-ins, Michael loves the hardware emulation of Cakewalk Pro Channel effects, as well as Waves, SSL and the Abbey Road Collection. For virtual instruments, Michael says, "I own almost all of Vienna Symphonic Library stuff, most of Native Instruments via Komplete Ultimate, also Maschine and Traktor Pro. Maschine reminds me of sampling and sequencing as a kid on my Roland S-50."
Perhaps serendipitously, Michael is already a Focusrite user: "I love my Focusrite Liquid 56 very much and looking forward to expanding it with the Scarlett!!"
Finally, Michael offers these words to the community:
"I find great joy in sharing what I've learned on my own as well as from others, both locally and online. Cakewalk has BY FAR the BEST online community and forum out there. I'm proud to be a small part of such a large knowledgeable and caring community. Thanks to the forum for being so open and friendly!! Here's to many more years of creating and connecting!"
Thanks for sharing a bit about yourself, Michael! And congrats again!
Your friends,
The Bakers and all at BandLab